I recently had the opportunity to sit down with NYC Fair Trade Coalition chair Andrea Reyes for a conversation about the top 5 sustainability myths. In the days ahead, I'll be sharing this five-part video and audio podcast with you on this blog.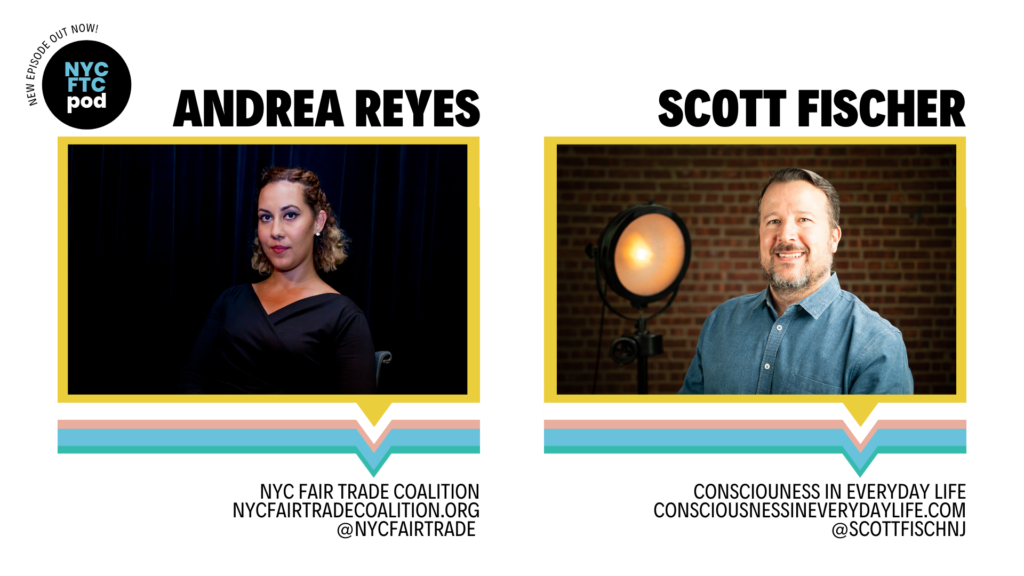 Today, I'm delighted to introduce the series and introductory podcast, in which Andrea and I trade stories on what sparked our passion for sustainability. My hope is that you'll be as eager to experience it as I am to share it with you.
Meet Your Hosts:
Andrea Reyes wears many hats — all with a common theme centered around sustainability. In addition to her role at the NYC Fair Trade Coalition, Andrea is founder of A. Bernadette, which helps people and businesses incorporate more sustainable practices. She's also a college instructor for fashion marketing, international trade, and business development courses.
As co-founder of energy efficiency consultancy Ciel Power LLC, sustainability is also my passion. I'm an active member of the NYC Fair Trade Coalition, author, and advocate for increasing energy efficiency awareness.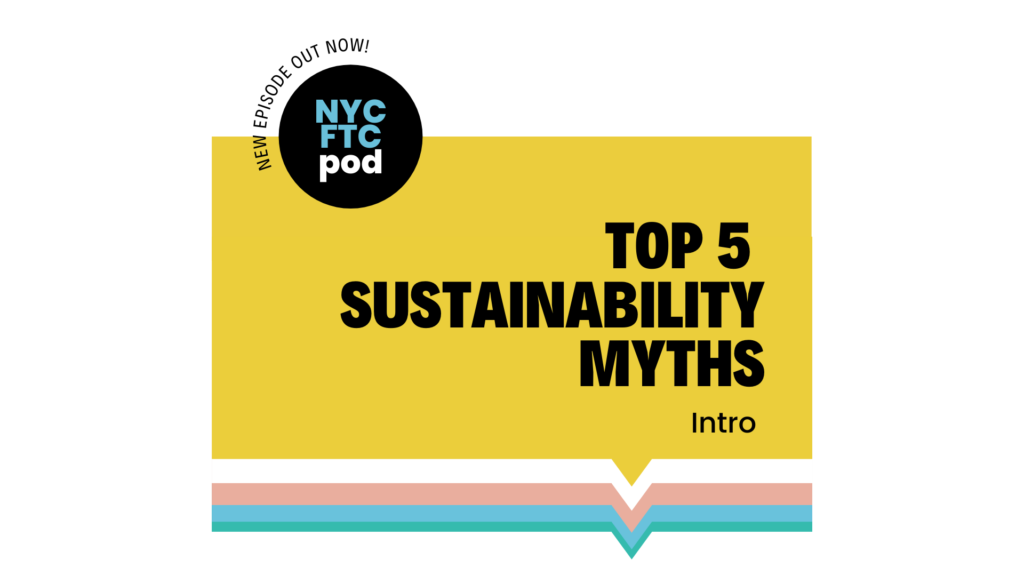 Different Paths, Same Journey
The word "sustainability" gets tossed around a lot. But the reality is that sustainability means different things to different people. A significant part of the meaning derives directly from our own backgrounds and experiences.
Andrea comes from the fashion world, while I left behind a corporate job. While we bring very different frames of reference to the table, there's a lot of overlap. This is because we're on the same journey. And whether you're just beginning to think about living a more sustainable life or you've been charting your own course for the past five, 10, or 25 years, you're on it with us.
All of which begs the question: If we're all on a journey, what's the destination?
The answer to that brings me to the first "myth" of sustainability — that there actually IS a destination. This may come as a surprise to you….but there's not. Sustainability is a moving target. We can't achieve sustainability; we can only be more sustainable.
Tune in to the next blog to learn more about this myth, along with why it's still worth the trip.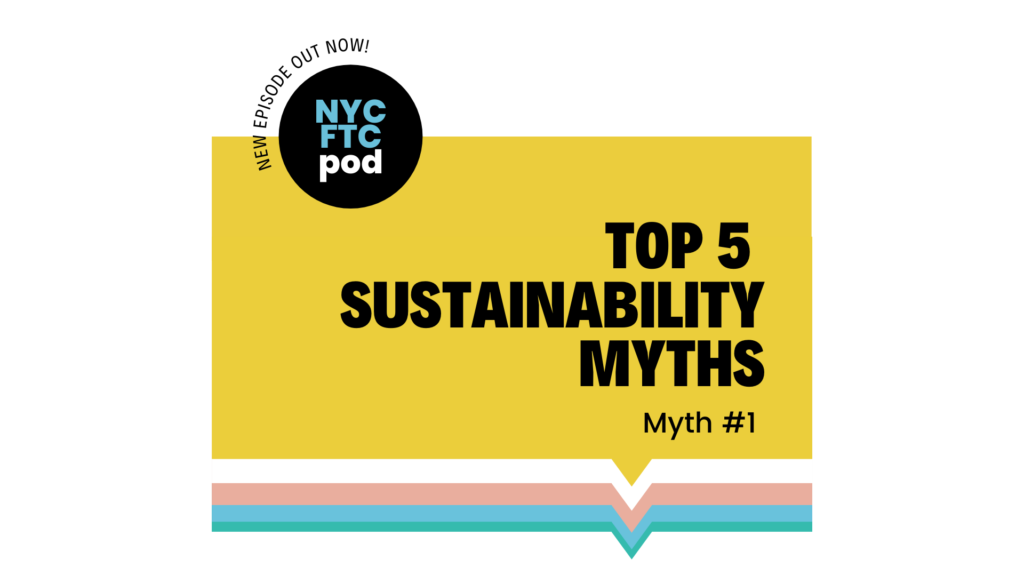 Sustainability Myth #1: You CAN Be Sustainable
We often talk about sustainability as the end game. However, when you stop and think about what the word actually means, a different truth emerges. In my last blog, I introduced you to my new five-part audio and video podcast with NYC Fair Trade Coalition chair Andrea Reyes on the top five sustainability misconceptions. In today's episode, we tackle the first myth: that it's actually possible to be sustainable.
News flash: It's not.
Here's a closer look at this common misconception and why it's important to start thinking differently about sustainability.
What is "Sustainability?
The Brundtland Commission is credited with putting forth one of the first official definitions of sustainability in 1983: "Development that meets the needs of the present without compromising the ability of future generations to meet their own needs."
While many different definitions have been floated around since, they share a common theme of indefiniteness — that something sustainable can be upheld forever. Now here's the twist: It's not actually possible for us to live sustainably when our very existence on this planet depletes critical resources. Not to mention that our societies and systems are inherently unsustainable.
We Can All Do Better
This may sound bleak, but that's not the point. The point is to reframe our sustainability conversations in terms of what's actually within our power to do. Because when we talk about the goal of sustainability, we're really talking about being more sustainable. We're just talking about moving in the right direction.
One possible starting point for this that comes up in the podcast? Letting go of the concept that "more is better." This is something that large companies can do (but may resist); it's also something that every person can do — although it may run contrary to our culture. The takeaway? It may not be easy, but it IS doable.
And that's not all. Andrea and I also hit on a number of other thought-provoking topics in this episode, including:
Sustainability shaming
Green technology sharing
Capitalism, consumerism, and overconsumption
Personal style
If you watch or listen to this podcast (which I really hope you will), you'll also learn something else: that while we may be the experts, we don't have all the answers. Like every other human, we're trying to figure out what the right direction is, so we can figure out how to move in it. I hope you're headed the same way.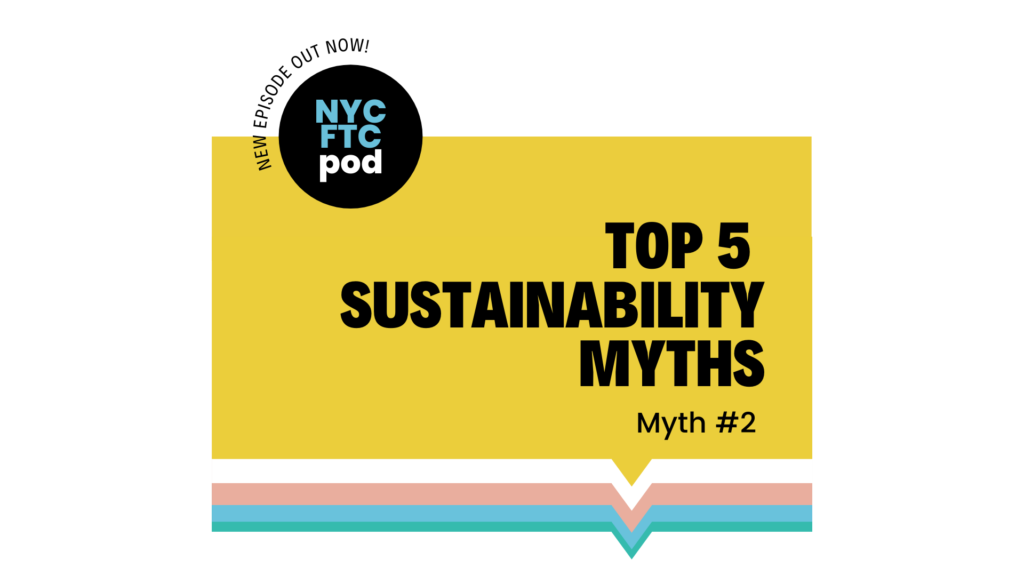 Sustainability Myth #2: It's Just About the Planet
The proposition of "saving the planet" has a pretty dramatic flair to it, doesn't it? That may be why it's often used to headline the sustainability charge. However, the planet isn't the only thing that matters when we talk about sustainability.
This brings me to the next installment of my 5-part audio and video podcast series with NYC Fair Trade Coalition chair Andrea Reyes. In this episode, we take on the second myth in our roundup of the top five misconceptions about sustainability: that sustainability is only about the planet.
People, Planet + Profit
If we're not just talking about saving the planet when we talk about sustainability, what else is involved? It's all about the "triple bottom line." Also known as the 3Ps or TBL, the triple bottom line consists of the planet and two other critical Ps: people and profits.
While we often think about the 3Ps in a corporate context, the triple bottom line also applies to sustainability. Just like a company is unlikely to succeed without considering the 3Ps, our sustainability priorities must also include meeting human and economic needs. The best solutions won't just benefit the environment, but will also help people and bolster the economy. In other words, sustainability isn't a win. It's a win-win-win.
Pondering the Impact of Another P
From universal basic income to the glorification of "busy" and the troubling exporting of American culture, there's a lot to unpack here, and we don't shy away from any of it.
Also, making an appearance in the podcast? Another "P" that's been front and center in our lives for the past 1.5 years: the pandemic. Andrea and I contemplate whether people and society at large will take the time to learn and change based on our COVID-19 experiences, or if we'll jump right back on the hamster wheel.
If you've been paying attention, you may also notice another theme emerging: uncertainty. Because while Andrea and I may be "experts," we've got as many questions as we have answers. If you're looking for easy listening, this may not be the podcast for you. But if you're craving an insightful conversation that will really challenge you to think (and rethink), you'll find it in this podcast.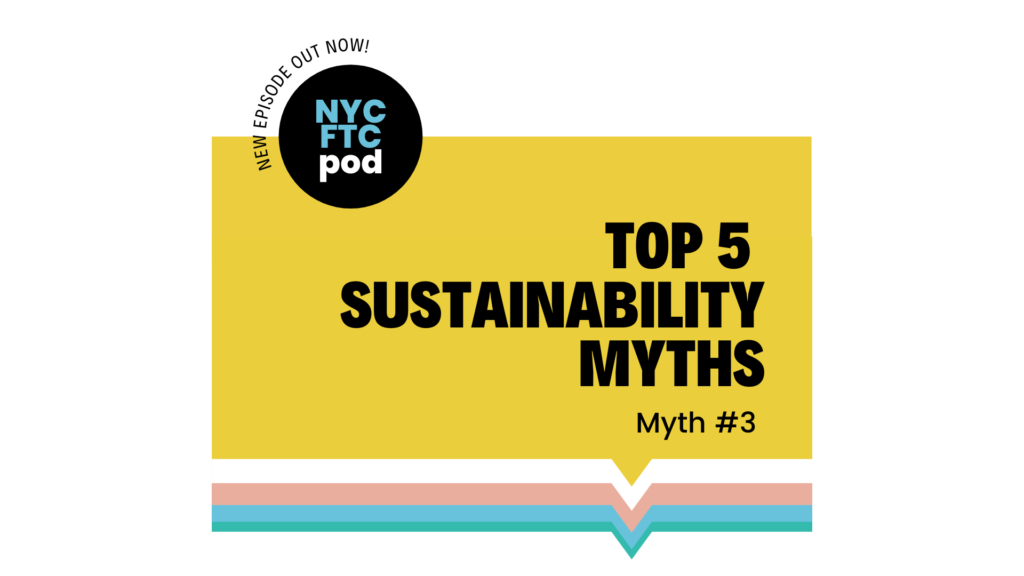 Sustainability Myth #3: Sustainable Fashion is Expensive
I'm back with the next installment of my 5-part audio and video podcast series with NYC Fair Trade Coalition chair Andrea Reyes. In this episode, we tackle a myth related to one of Google's most-searched terms: Is sustainable fashion expensive?
Depending on your habits and preferences, the answer can be both "yes" and "no." The better question may be: What is the cost of NOT supporting sustainable fashion?
Tune in to today's podcast to find out.
The Many Faces of Sustainable Fashion
From shopping at thrift stores to passing along hand-me-downs, many of us grew up in a culture of sustainable fashion. And (while we may not have known it at the time) these behaviors mattered — especially when you consider that 13 million tons of textiles get thrown away every year.
Supporting companies that are innovators in the sustainable fashion space is an alternative to reusing and repurposing clothing. Is one approach better than the other? Are there affordable eco-friendly clothing options, or is the issue less about the price tag than the trade-offs? These are just a few of the questions we touch on in the podcast.
Challenging Each Other, Too
One of the things I've found most exciting about my collaboration with Andrea is that while we're both advocates for more sustainable living, it looks very different for both of us. In this episode of the Top 5 Sustainability Myths, we challenge each other to share and explain our choices.
This reinforces a valuable takeaway: There isn't one right way to do it, but we all can — and should! — be learning from each other.
Andrea and I also share how we've evolved our shopping habits to allow for self-expression, comfort and sustainability. In this episode, you'll find actionable tips to apply in your own life to live more sustainably — from knowing "your colors" and only buying within that color palette to creating a basic wardrobe within one "uniform style" so everything goes together as opposed to buying individual pieces.
Or what about strategically selecting what you wear based on how active you plan to be that day? It may sound silly, but the ability to skip the wash not only saves energy, but also reduces wear and tear on that skirt or shirt — meaning it's more likely to last longer.
Tune in for a lot of useful advice on how to be more sustainable in your fashion choices — or just to see Andrea ask me if my clothes make me feel "icky." It's up to you.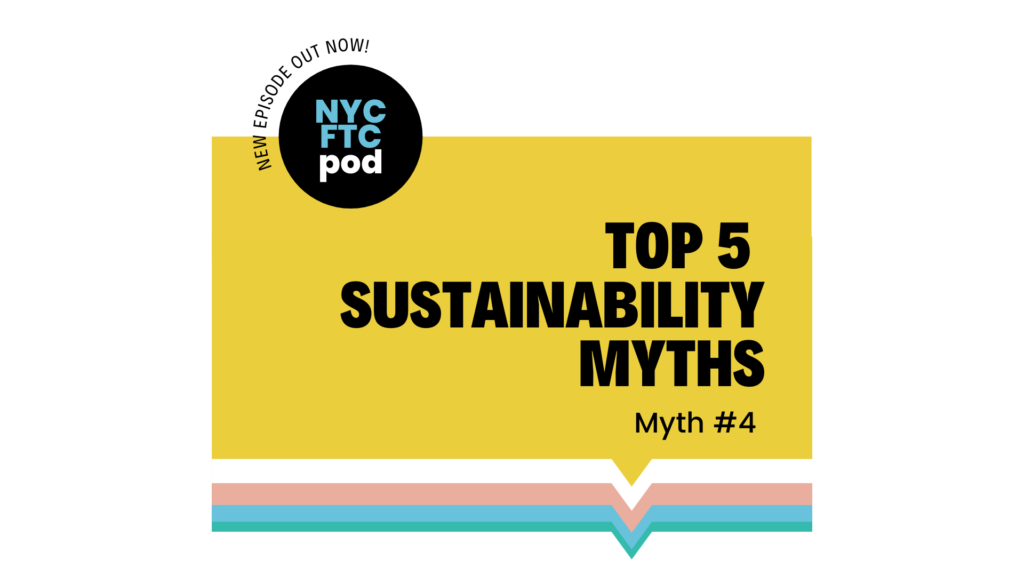 Sustainability Myth #4: Natural Is Always Best
Do you think cotton is the best fabric around in terms of sustainability? After all, it IS "the fabric of our lives."
By now, you probably know where I'm headed with this one. While we've been conditioned by lobbyists to think of cotton as the end-all, be-all of sustainable fabrics, the reality is that it's not all it's cracked up to be.
If you've been following along with this 5-part audio and video podcast on the five top sustainability myths. you've probably noticed that NYC Fair Trade Coalition chair Andrea Reyes and I aren't steering clear of the tough stuff — like calling out big cotton. And we're not about to start now. Here's a quick look at what we cover in our latest podcast entitled the Top 5 Sustainability Myths.
The Ugly Side of Cotton
Cotton absolutely has its share of sustainability upsides, including that it's natural and biodegradable.
But in keeping with our "do better" theme, it's important to note that cotton isn't perfect. Not only is its production process water-intensive and pesticide-laden, but the industry is also heavily subsidized by the government. And that's not even getting into the political and social impacts of the cultivation of cotton on our society.
The takeaway? While many of us think we're making the most sustainable choice when we opt for cotton clothing, there may be better options.
And Thinking Differently About Polyester
Polyester sits on the other side of the scale. Because just as cotton comes off as a sustainability savior, this man-made material is usually positioned as the opposite — with and without good reason.
It's absolutely true that polyester is problematic, but is it getting an unfairly bad rap? Because as it turns out, polyester's production process is less energy-intensive than cotton. It can also have a lower cost per wear than cotton. Ready to have your mind blown? Depending on what lens you're looking through, polyester may be more sustainable than cotton.
Once again, Andrea and I find ourselves tackling some really hard but insightful questions about sustainability myths in today's sit-down, including:
What factors matter if we want to make more sustainable clothing choices?
I definitely don't have all the answers, but at least one thing is clear: I'll never look at cotton the same way after my conversation with Andrea. After watching this podcast about sustainability myths, you probably won't either.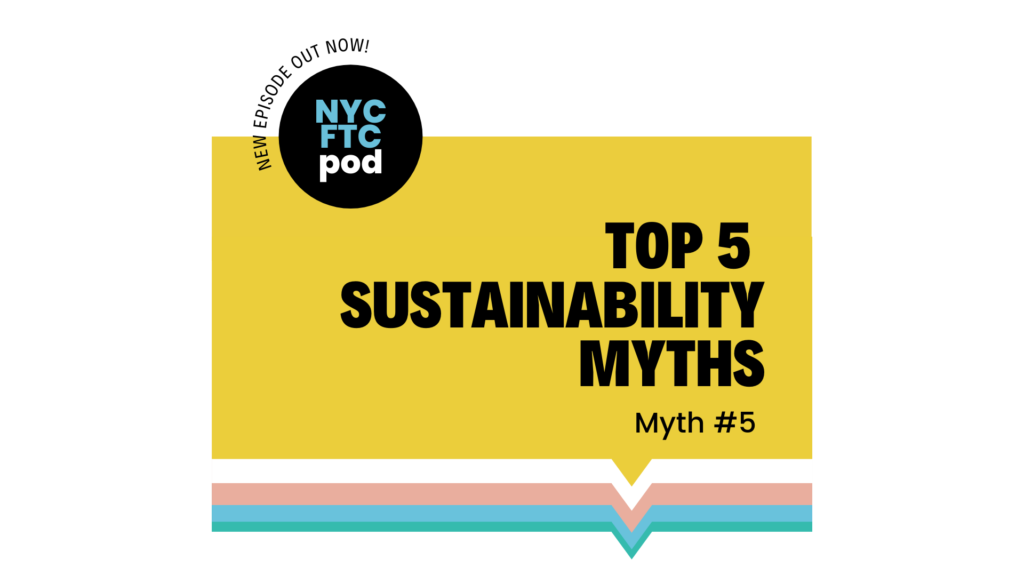 Sustainability Myth #5: Marketing is Fact (Greenwashing)
We all want to live more sustainable lives. The brands that cater to us know this and respond by showing us messages we want to see about their sustainability efforts. The problem? That's all we see. When brands don't show us the rest — namely, what they could be doing better — that's greenwashing.
In today's fifth and final installment of our 5-episode podcast series covering the top five sustainability myths, NYC Fair Trade Coalition chair Andrea Reyes and I shine the spotlight on greenlighting. Here's what comes up.
One Good Thing About Greenwashing
Greenwashing isn't green. But it's not black and white either. As with all things sustainability, there are many shades of grey. Because while greenwashing isn't exactly a good thing, there's at least one upside to its existence. At least we're talking about it in this podcast about sustainability myths. The fact that greenwashing is so prevalent shows that sustainability is important enough to be part of the conversation.
But in keeping with the "do better" running theme of this series, there's no such thing as "good enough" when it comes to sustainability. So while we can absolutely acknowledge ongoing efforts by manufacturers to be more sustainable, we can — and should — hold them accountable for becoming even more sustainable.
Other Things to Think About
Andrea and I cover a lot of tricky territory in seeking to understand greenwashing and the society that upholds it. Other things we touch upon in this podcast include:
How Levi's doesn't make jeans anymore
Labor brokers and sweatshops
The futility of our current recycling programs
Our own bad habits, including patronizing the A word (You'll have to tune in to find out what it is.)
I hope you've enjoyed this series and — more importantly — that you've gotten something out of it. Even if you're just thinking more or differently about the products and businesses you use and support, you're already doing better.
Visit my recent piece on Industry of All Nations to learn more about propagating local economies with locally grown cotton, natural dyes, and fair trade.